How can you be successful as a student? That's a loaded question, with answers that vary depending on who you ask, but it's one that all students must ask themselves at some point in their college careers. Fortunately, helping students achieve success in and out of the classroom is one of the chief goals of Missouri State University-West Plains' faculty and staff.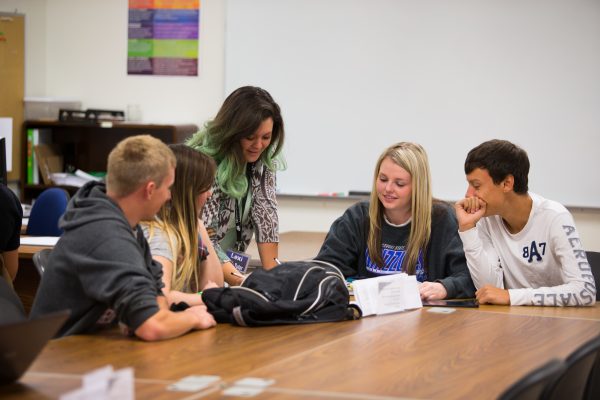 A list of "10 Steps to Success" can be found on Missouri State-West Plains' website as well as in numerous locations across campus. Chancellor Drew Bennett said the first step of being successful in college is to make graduation your goal.
"Every time we have a STAR Orientation session, I have a cap and gown that I get one of the incoming freshmen to put on," Bennett said. "I then have that student stand behind me and follow me around, and I ask: 'Can you visualize yourself walking across the stage at graduation? Can you see your family out there watching you? Can you hear the music playing?' And then I ask the group, 'How many of you have your goals written down? And how many of those goals have an exact date?' For our students, that is one of the most important parts – committing.
"We all have obstacles and setbacks along the way—that's life. But if you tell yourself you can make it, you will," he added. "All too often, students come here dipping their toes into the deep end and saying, 'I'm just going to see. Maybe it will work out and maybe it won't, but at least I tried." But there has to be a more positive determination because, again, there will be obstacles and setbacks. Too many people say 'I'm going to try it' instead of 'I'm going to do it.'"
The second step on the list (and also the 10th, just in case you miss it the first time) is go to class! 
"Going to class is the foundation upon which your education is built," Bennett said. "Even the classes you don't like. Even the 8 a.m. classes. Even during deer season. We put commitment first on the list because you have to be committed in order to go to class. And if you can do those two things, you'll be able to pick up the other things on the list as you go."
EDUCATION GUARANTEE
Even if you follow all those steps and still stumble along the way, all is not necessarily lost, thanks to an initiative adopted in 2012 called the Education Guarantee, which is offered to full-time students in good standing and taking no more than 50 percent of courses online. If you have no more than two absences in each class, turn in all homework and assignments, visit with each of your instructors and your advisor outside of class, and use the free tutoring services at least three times for each of your classes, Missouri State-West Plains guarantees you may be allowed—one time only—to retake the class(es) in which you received a "D" or "F" tuition-free the next regular semester in which the course is offered if you earn a term GPA of less than 2.0. This does not apply to nursing and respiratory care degrees due to selective admissions criteria.
Missouri State-West Plains officials established the program in 2012 to reinforce the concept that if students make a good faith effort and follow simple, proven techniques, they could be successful in their studies.
TUTORING SERVICES
College can be a stressful experience, and as such it can be difficult to reach out for help when you're feeling overwhelmed. But all you have to do is ask, whether it's visiting your instructor during office hours or taking advantage of the free tutoring services offered at Missouri State-West Plains.
Writing Specialist Alexandra Graham said the tutoring lab is a place where you can get help at any stage of the learning process. She said tutors can help students understand their instructors' assignments and ways to meet their teachers' requirements.
"Sometimes in the process of explaining what they are trying to do, students are able to figure it out on their own, so we act as a good sounding board for that," she said.
Another advantage of seeking help from the tutoring lab is that the tutors are fellow students and have firsthand knowledge not only of the class material but also the expectations of classwork.
"They relate well to other students without the 'scary teacher' phenomenon," Graham said. She added, "There are two things I see students struggle with most: time management and understanding what they are supposed to do. And for the second thing, my best suggestion is to go talk to your teacher. Call, email, knock on the door—we're really not scary. For the first, find a routine that works."
Tutoring is currently offered for writing, math, chemistry, biology, political science and computer information systems.
FINDING YOUR PLACE
"Finding your place is probably one of the biggest factors that determine student success," Dean of Student Services Angela Totty said. "In high school, you might have been part of the cheer team, been in band, been an athlete, etc., but the point is you had your niche. Many students who come here might have known the same 30 or so students throughout their high school career, but now they might not know anyone, so trying to identify as soon as possible where they fit is a huge benefit toward them wanting to stay here."
Totty admitted it could be hard for students to get involved in a new environment. "For someone to go from a high school with, say, 200 students to a college with 2,000 can be overwhelming," she said. "But statistics have shown that students who get involved, and those who live on-campus, do better in their studies. My advice is do everything. Go see what's happening around campus. Only by giving yourself permission to try everything and experience new things will you be able to find out for yourself your niche."
For Dean of Academic Affairs Dennis Lancaster, the big question students must answer is why they are here. " It can't be your parents' reason, your girlfriend's reason or even society's reason. Why are you in college? You have to figure out what your passion is, and that's not easy. It sometimes takes years. What I do in IDS 110 is I have my students make a passion statement. It has to be your authentic choice, based in maximizing your existence. Does your passion connect with your education? Will it help you get a job in the future? And then you have to sort out what it is you like and what you don't like. Do you like working inside or outside? Do you like working with words, ideas or numbers? And sometimes you're not sure what your passion is until you can put it into practice. But college is a good place to start. What is your passion, and how is your college education going to help you reach toward it?"