If you're undecided on a career path, why not stop by the Career Development Center (CDC) in Looney Hall Room 104? CDC Coordinator Moiria Seiber said the center offers a variety of services to students and alumni that will help them discover what career might best suit them and give them the tools they need to secure a job with employers near and far.
Students and alumni can explore and research a variety of career options and take advantage of the center's career planning assessments and readiness tools, including mock interviews, job shadowing and internships. Seiber said her goal is to create a database of area businesses willing to partner with the university and host interns each semester. Students also can browse through the list of available jobs maintained by the center, and receive help developing cover letters and resumes needed for job applications.
"I think advisement is incredibly important for students, but I also think career development is incredibly important," Seiber said. "My job is to let students know the CDC is here and to help them use it, because a little help never hurts."
An alumna of Missouri State-West Plains herself, Seiber said she didn't know these services were available on the West Plains campus until she was in graduate school. "It would have helped me as a nontraditional student to know those services were available," she added.
Seiber promotes specialized career placement events, too, as opposed to generalized job fairs. The events are targeted toward specific fields, such as agriculture, but they're open enough to cover a wide scope of careers within the field. These events are geared to help meet the needs of students and businesses alike.
"Some students have no idea what they want to do, so I work with them to have a better idea of what they're looking for," Seiber said. "Sometimes we start with 'what don't you want to do?' and work from there. To have a little guidance and input when you're making these decisions is invaluable."
The CDC also helps coordinate volunteer opportunities, which can provide valuable experiences in addition to supporting good causes.
"Volunteering, in addition to making us well-rounded human beings, gives us 'soft skills,' such as working together as a team, that are so important to employers, and also gives you experience and insights that will help you determine a career path," Seiber said. "We have so many volunteer opportunities. People can volunteer at Ozarks Medical Center very easily, at the Health Haven Botanical Garden, American Red Cross blood drives, elementary schools, Arts on the Avenue, the Boys and Girls Club of Greater West Plains, the Missouri Department of Conservation, the West Plains Regional Animal Shelter … you can even go read to small children at Head Start. Some volunteer opportunities are more intensive than others, such as with CASA (Court Appointed Special Advocates), but others just require you to show up and get to work."
She added, "You don't just learn skills—you make connections you can use later on. Volunteering and job-shadowing are very underutilized."
For more information about the CDC, including a Career Projections page and information on local job listings, visit http://wp.missouristate.edu/Career/, call 417-255-7230, email WPCareerDevelopment@MissouriState.edu or stop by Looney Hall Room 104.
STUDENTS SHARE THEIR EXPERIENCES
Keshia Wilson, Licking, learned about the CDC when Seiber visited and spoke to her Student Success (IDS 110) class. Wilson plans to go to veterinary school after graduating from Missouri State-West Plains, and one of the application requirements is to have 100-plus hours of supervised veterinary experience. After learning the CDC helped set up internships, Wilson sought Seiber's help in finding one.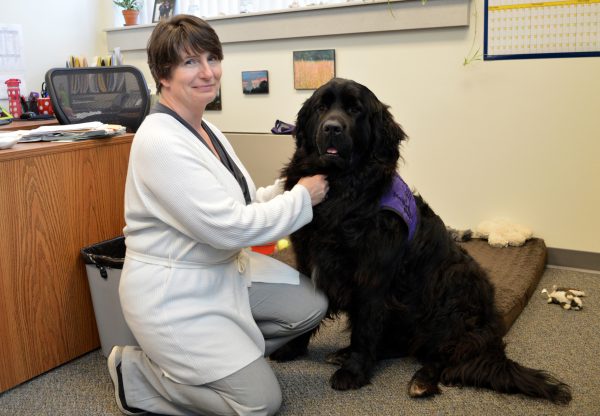 "Moiria did all the work, really," Wilson said. "I just sat down with her and explained what I needed the internship for, and she went right to work contacting vet clinics in our area. It was only a matter of two or three days after our meeting before she found a vet clinic willing to take an intern."
Wilson is now interning with Dr. Bryan Buttress at Texas County Veterinary Clinic in Houston.
"My internship, so far, has helped me gain a little bit of hands-on experience doing x-rays, giving vaccinations and things of that nature," Wilson said. "I would highly recommend the CDC to other students! It was evident from the moment I walked into her office that Moiria is passionate about helping students. She was very friendly and worked diligently to get my internship set up."
Dagen Sands, West Plains, learned about the CDC from a friend last semester, and stopped by seeking help to determine a potential career. Seiber directed him to a website that provided information on various jobs and what he could expect from them.
"She's given me contacts that I can potentially speak with in regard to their professions," Sands said. "I would say it's all been very helpful, and I feel comfortable using the career center."