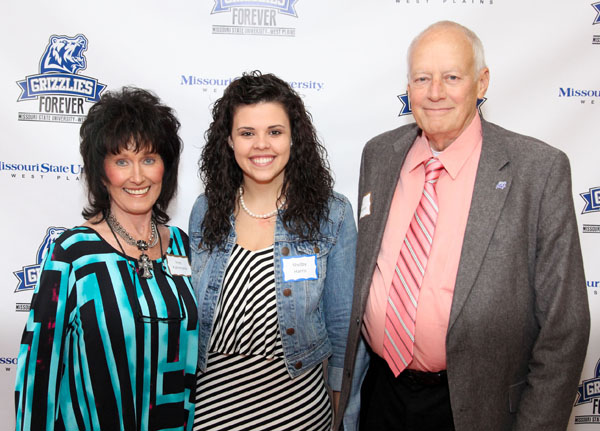 WEST PLAINS, Mo. – On Oct. 28, 120 donors and recipients gathered at the Ozarks Center in the East Towne Village Center for Missouri State University-West Plains' Annual Scholarship Luncheon.
The luncheon, hosted by the university's development office, provides an opportunity for scholarship recipients to meet the donors who have generously provided funds to aid in their education.
"There is nothing more emotionally satisfying for a donor than watching a student he or she has financially helped finish school," said Director of Development Joe Kammerer.  "The bond that develops between benefactor and recipient is one that lasts for years and is one reason why funding scholarships continues to be the most popular donor choice at Missouri State University-West Plains."
So far this fall, the university has awarded over 160 privately funded scholarships totaling more than $126,000.
Shelby Harris, West Plains, president of the Student Government Association (SGA), was one of the recipients and served as a guest speaker.  She graciously thanked donors for their investment in her education and quoted Benjamin Franklin by stating, "An investment in knowledge pays the best interest."
The event's other guest speaker was West Plains Mayor Jack Pahlmann.  Pahlmann and his wife, Inez, established the Pahlmann Family Endowed Scholarship in 2007, and he spoke about why they chose to support the scholarship program.  He then encouraged the students to give back to their communities and Missouri State University-West Plains once they graduate to continue the pay it forward message.
Those interested in establishing a scholarship or contributing to an existing scholarship can contact the development office at 417-255-7240.
For more information about the giving opportunities available at Missouri State-West Plains, visit wp.missouristate.edu/development or call the development office at 417-255-7240.