One of the most fundamental skills for any education is the ability to write.
Thanks to a significant gift from the Arch W. Shaw Foundation, the writing center at Missouri State University-West Plains (MSU-WP) will help students successfully hone those skills for years to come.
University officials recognized the gift during a ribbon cutting and dedication ceremony at 5 p.m. Friday, Aug. 7, at the center in Hass-Darr Hall. During the ceremony, the center was renamed the Arch W. Shaw Foundation Writing Center.
"William Shaw and his family have been so unbelievably generous to Missouri State-West Plains – and to the communities of south-central Missouri – for many, many years," said MSU-WP Interim Chancellor Dennis Lancaster. "Hundreds of students have been supported through their scholarship donations over the years, and now, with this significant gift supporting our writing center, the Arch W. Shaw family continues to demonstrate their love for this region, our campus and our students.
"It's a great pleasure to honor William Shaw and the Shaw family with the naming of such a key and critical component of our academic and student support programs," Lancaster said.
A history of service and philanthropy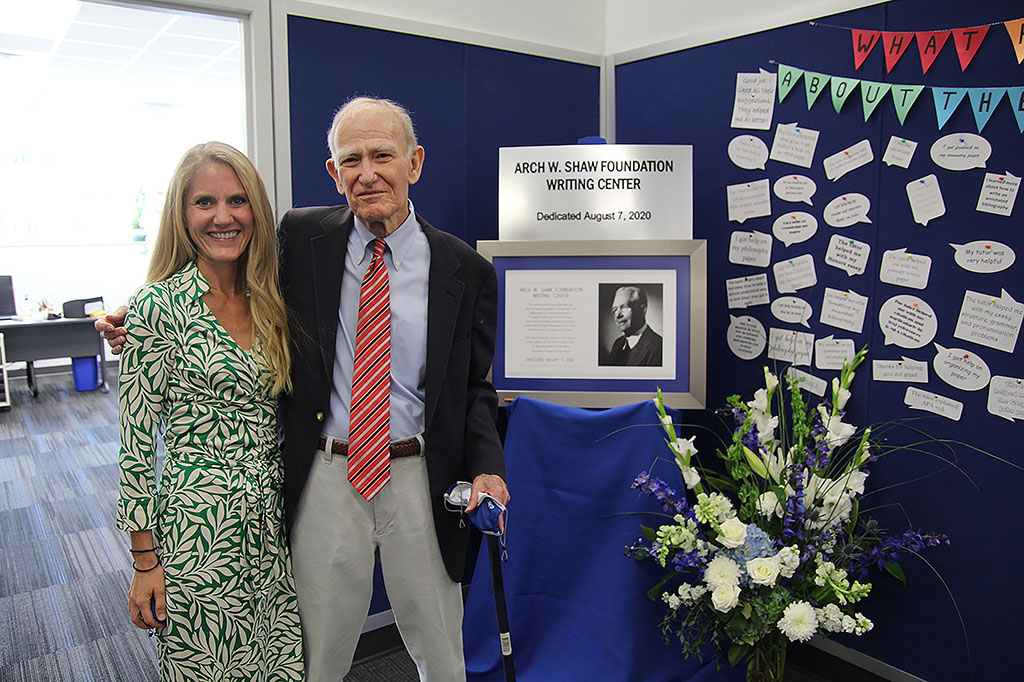 Arch W. Shaw was a business leader, publisher and adviser to presidents. Shaw's descendants settled in south-central Missouri and have been instrumental in the area's progress.
Since the 1980s, family members and the foundation have supported MSU-WP and its students with gifts toward scholarships, building projects and other campus fundraisers. The gift to the writing center will aid its staff in their mission to help students improve their writing skills.
"We are grateful for the support the Shaw family has given to Missouri State University-West Plains over the years," added MSU System President Clif Smart, who attended the ceremony.
"Their gifts, individually and through the Arch W. Shaw Foundation, have impacted countless lives through scholarships and other campus initiatives," Smart said. "This most recent gift to the writing center will give students an essential tool needed to accomplish their educational goals."
Center resources
Through the writing center, students can work with tutors to craft research papers and other writing assignments needed for classes across the university's curriculum.
"The Arch W. Shaw Foundation Writing Center provides students with a place that will support them through the writing process," said Interim Dean of Academic Affairs Dr. Michael Orf. "The experienced tutors aid students with every stage of the writing process, from understanding the assignment to helping with strategies for revision and editing.
"Without the writing center, students would not have this type of support to help them through their college coursework at Missouri State-West Plains," he added.
A desire to help students in south-central Missouri is an integral part of the family's and foundation's purpose in giving, according to trustee William Shaw. "The Shaw family has a heart for the students of this region, and we want to inspire them to rise up and reach for the stars," he said.
For more information about the Arch W. Shaw Foundation Writing Center, visit the center's website.
For information about giving to MSU-WP, call 417-255-7240, email WPDevelopment@MissouriState.edu or visit the development office's website.