The Fiscal Year 2022 federal budget passed by the U.S. Congress and signed today by President Joe Biden includes more than $3 million for Missouri State University-West Plains (MSU-WP).
U.S. Sen. Roy Blunt (R-Missouri) led the effort to secure the funds for MSU-WP.
"Sen. Roy Blunt's support for Missouri State University, including the MSU-WP campus, has helped transform the university in so many ways," MSU-WP Chancellor Dennis Lancaster said. "His efforts on behalf of the university have been strategic throughout his tenure in Congress and have come at crucial times in our growth and progress. We wouldn't be the campus we are today without that support."
The omnibus package includes $2.5 million for a hospital simulation lab in Looney Hall and $525,000 for equipment and technology upgrades in Melton Hall science labs to support STEM research and teaching.
"These appropriations for our hospital simulation lab and our science labs in Melton Hall provide us with state-of-the-art tools that will help us educate and train students in our nursing program, as well as those interested in other STEM-related careers," Lancaster added.
"The funding couldn't have come at a more opportune time," said Dr. Michael Orf, dean of academic affairs. "With the recent expansion of our nursing program, we need to be able to expand facilities, as well. The monies will help us continue to offer excellent instruction to our students and provide them with a quality learning experience."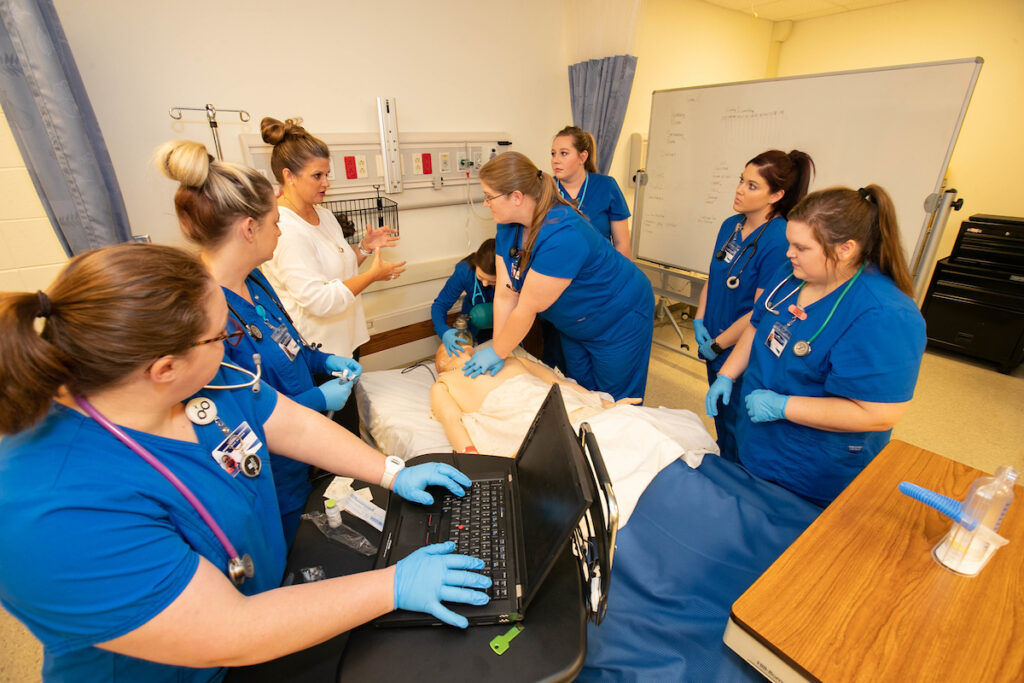 Details about the hospital simulation lab renovations
When the one-floor renovation at Looney Hall is complete, the hospital simulation lab will provide realistic spaces for training students to treat patients needing care in a variety of settings, including obstetrics, pediatrics, intensive care, emergency room and a doctor's office, according to Amy Ackerson, associate dean of nursing and allied health.
In addition, it will provide space to run multiple simulation scenarios at the same time and create transitional spaces to train professionals as certified nurse assistants (CNA), medical assistants and community behavioral health workers.
It also will create larger doorways and hallways to make it easier to move equipment from room to room and provide larger storage space for the equipment.
Ultimately, Ackerson said, the funding will give MSU-WP the opportunity to make the changes needed to stay competitive with other nursing schools by offering students a modern, comprehensive simulated clinical experience.
"While we have a fully functional simulation lab in use already, this expansion will take us from a one-room, ward type setting to a simulated hospital floor complete with multiple rooms and perhaps even a nursing station. The new space will elevate our simulation experiences to the optimal level for our students. The most exciting part is that we can use the space to train all of our allied health students, not just nursing," Ackerson said.
"We have been extremely fortunate to have been able to offer our students the best nursing education in the region for the cost. These appropriations are the last piece of the equation to maximize the space at Looney Hall. Ultimately, we will be able to increase enrollments in all programs in the division to the capacity demanded for these professionals," she added.
The new hospital simulation lab and upgrades to technology and equipment in the science labs wouldn't have been possible Blunt's support, MSU System President Clif Smart stressed.
"Sen. Roy Blunt was the driving force behind getting this done for Missouri State. He has been a leading advocate for MSU and for southwest Missouri. Without Sen. Blunt, these appropriations for MSU would not be in the budget. We owe him a huge debt of gratitude," Smart said.