Welding is one of the fastest growing careers in the country, but only a handful of women currently fill its ranks.
Officials with Missouri State University-West Plains' (MSU-WP) Terry L. "Bo" Pace Advanced Welding and Fabrication Technology Program recently addressed that gender imbalance locally through its Women in Welding Program.
Eighteen area women enrolled in one of the two week-long, 40-hour intensive introductory training sessions offered through MSU-WP's workforce development office.
The workshops, which were subsidized through a grant from the Missouri Scholarship and Loan Foundation (MSLF), were designed to address the gender imbalance and urgent talent shortage in the welding and manufacturing industries.
"The goal of these workshops is for participants to develop an in-demand skill and receive intensive training and preparation for full-time jobs, apprenticeships or continuing education opportunities in the welding industry," said Sheila Barton, workforce development director.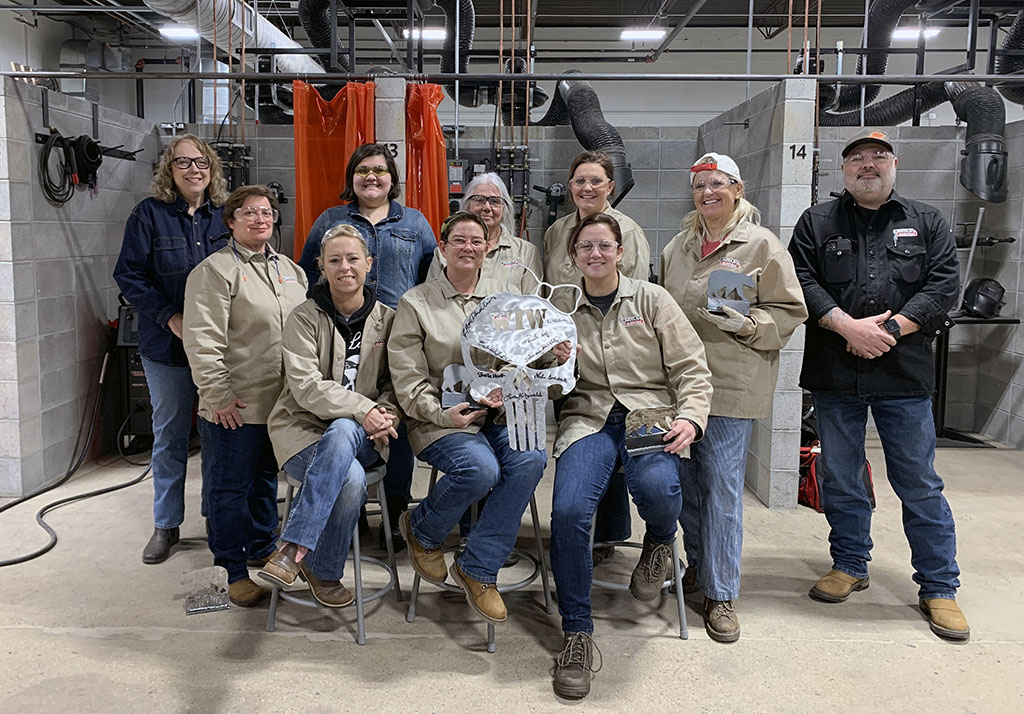 Diversifying the welding industry
According to the American Welding Society, Barton said, over 400,000 job openings are expected in the welding industry by 2025. Currently, she added, only 5% of welding jobs are filled by women.
"We are developing economic opportunities for women and diversifying the workforce through this program," she added.
Thanks to the MSLF grant, there was no cost for the 18 women to attend the training. In addition to the free tuition, each participant received personal protective equipment, travel reimbursement and daycare assistance.
As a result, these 18 women are now prepared for full-time jobs or apprenticeships in the welding industry, Barton said.
Positive feedback from participants
Surveys of the participants revealed they were pleased with the training they received and the opportunities now available to them.
"I took the class to see if I would like this type of career," said Kim Wilson, Theodosia. "Women often get looked over for this trade, and I wanted to try. Thanks to MSU-WP for this great skill-building opportunity and hands-on experience!"
"I was very nervous about the class and almost cancelled, but I'm so glad I didn't," said Ruth Anne Phillips, Mammoth Spring, Arkansas. "I was surrounded by like-minded, strong, smart and capable women all looking for a diverse opportunity. We had amazing instructors who were positive, supportive and experienced. It was the best learning experience I have ever had."
"I wasn't sure I was really interested in this class, but I am so glad I took the workshop. This week has changed my path for the future," Lisa McDonald, Willow Springs, said.
Chuck Cook, a lecturer with the Pace Advanced Welding and Fabrication Technology Program, was just as impressed with the program and his students.
"I believe programs like Women in Welding are beneficial to the individual and our community, since the welding industry is male dominated. It is very important to get these ladies out there and give them the skills they need to succeed. In my 30-plus years of experience, some of the best welders I ever had or seen were female," he said.
Several students who attended the training sessions plan to use the skills they developed at their current businesses, Barton said, while others are interested in continuing their education through the Pace Welding and Advanced Fabrication Technology Program. Still others are seeking positions at businesses in the area, she added.
Barton said she would like to offer the program again, provided funding for it can be obtained.
If you or someone you know is interested in a career in welding and would like to know more information about the Pace Advanced Welding and Fabrication Technology Program, contact Barton at 417-255-7784 or the admissions office at 417-255-7255.
Additional information about the program also can be found online at WP.MissouriState.edu/Workforce.