A total of 272 students will be candidates for graduation from Missouri State University-West Plains (MSU-WP) during the 2023 commencement ceremony Saturday, May 20, at the West Plains Civic Center.
This includes students receiving associate degrees and certificates.
In addition, 72 students will be eligible to receive degrees from Missouri State University-Springfield graduate and undergraduate programs. Several graduate and undergraduate programs are available at the West Plains campus through the Missouri State Outreach program.
The ceremony will take place at 10 a.m. in the civic center arena. It also will be livestreamed. Visit WP.MissouriState.edu/Commencement to access the livestream link the morning of the event.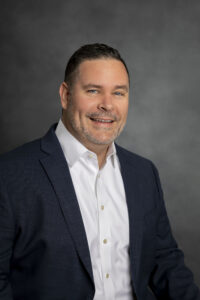 Alumnus will serve as commencement speaker
Joe Driscoll, senior vice president of commercial banking at UMB Bank in Springfield, will give the keynote address. Driscoll is a 2007 graduate of MSU-WP and a 2009 and 2010 graduate of MSU in Springfield.
Driscoll is one of the first students to receive MSU's Citizen Scholar Award in 2008. The award is given to students for their dedication to the university's public affairs mission through coursework, activities and service-learning opportunities.
Members of the 2023 graduating class, their hometowns and the degrees and certificates they will be receiving are listed below:
Missouri State University-West Plains 2022-2023 Graduates
Associate of Arts in Child and Family Development
MISSOURI
West Plains: Leslee Nicole Ruengert, Kelsi Lynn Watson
Associate of Arts in Criminology
MISSOURI
Jefferson City: Mary Elizabeth Groner
Rolla: Hailey Klaray Baldwin
West Plains: Allissah Paige Cunningham, London Rain Stadler
Willow Springs: Rachel LeeAnn Hunter
Associate of Arts in General Studies
AUSTRALIA
Ipswich: Merrick John Small
BRAZIL
Chapadao do ceu Goias: Ilana Nunes de Assis
Rio Grande do Sul: Alana Luisa Moesch
Uberlandia: Sthefany Maximo Carvalho
CAMEROON
Yaounde: Ruth Manuela Marie Bibinbe
GEORGIA
Kutasisi: Gagi Gvalia
NEW ZEALAND
Auckland: Dallas Rob Clayton
TURKEY
Ankara: Doga Kutlu
Izmir: Asli Erdi
Mugla: Karya Suvarioglu
ARKANSAS
Harrison: Sydney S. Tucker
Henderson: Caitlin Marie Bricker
MISSOURI
Alton: Lauren ReAhna Bell, Launa Marie Cheever, Carlissa Brianne Holman
Ava: Lorna Ruth Felker, Jadyn Lynn Smith
Birch Tree: Kyra Nicole Grandstaff, Analyl Elaine Jotz, Kiley Jean Taber, Riley Jane Taber
Bucyrus: Victoria K. Tucker
Cabool: Adrian Shawn Matney, Gabrielle Gwenith Mayberry, Lauren Makenzie Miller, Tanner Bogdan Trettin
Caulfield: Lucas James Conyers, Haley Lee Faye Kimmel, Anna Renee Meeks
Dora: Taylor Jadyn Brege
Ellington: Kelsey Jean Brooks
Eminence: Timothy James Rolen
Florissant: Rashad Weekly
Hermann: Zoe Laine Schafer
Houston: Breanna Jean Brown, Taylor Nichole Buckner, Jacina Marie Crockett
Iberia: Logan William Thompson
Imperial: Megan Amber Rice
Koshkonong: Heather Montague
Mansfield: Christin Rene Gayer, Megan M. Langley
Mountain Grove: Meagan Kathleen Cameron, Gracie Lynn Farran, Kaylie Jo Music, Adrian Zachary Thomas, Joshua Lee Bradshaw, Trinity Faith Elliott, Tori Elizabeth Emery
Mountain View: Ciayah Nicole Allen, Jocelyn Raelene Liliokalani Clark
Overland: Ashley Marie Quast
Piedmont: Andrew Lavar Howard
Pomona: Keely D. Flood
Pottersville: Savannah Belle Summers
Republic: Avery McKenna Romans
Richland: Melinda Nicole Flores
Roby: Faith Ann Littlejohn
Springfield: Cassidy Riley Andrews, Lindsey James Bethmann, Jakoby Joseph Hansmann
Thayer: Destinee Ann Gray, Jayce Asher Haven, Ashleigh Nicolie Jackson
Troy: Helen Grace Meyer
Tunas: Annie Raquel Bishop
West Plains: Julie Lynn Andrews, Domineque Justise Alma Bridges, Morgan Hailie Brill. Allie Danielle Callahan, Sabrina Nichole Casey, Cheyenne Elizabeth Cavitt, Hannah Grace Collins, Heather Sue Day, Brock Thomas DeWeese, Emilee Brynn Dougherty, Daegen Scott Green, Owen Zackary Harris, Taylor Allen Harrison, Lucy Evalyn Hershenson, Kayla Marie Hobbs, Abbigail M. Horstman, Ashton Paige McGinnis, Sargon Azriel Morningstar, Michael Angelo Ortiz, Andrew A. Shelton, Mackenzie Sky Smith, Trent A. Stine, Kenzie Lenae Warren, Kelsie Wells, Natalie Grace Wiehe, Jackson Roe Wright
Willow Springs: Brooke Elizabeth Berry, Reagan Paige Brook, Mackenzie Kathleen Cox, Donivan Matthew Owens
VIRGINIA
Chesapeake: Sterling Andre White
Associate of Arts in Health Professions
MISSOURI
Houston: Janessa Kaye Foster
Associate of Arts in Health Professions – Physical Therapist
MISSOURI
Ozark: Logan Jason Brewer
Associate of Arts in Health Professions – Physician's Assistant
MISSOURI
Cabool: Kylee Faith Sheppard
West Plains: Chance Conrad Eldringhoff
Associate of Arts in Health Professions – Physician's Assistant, Physical Therapist
MISSOURI
West Plains: Mackenzie Sky Smith
Associate of Arts in Health Professions – Occupational Therapist
MISSOURI
West Plains: Taylor Brooke Perry
Associate of Applied Science in Agriculture
MISSOURI
Bunker: Carlie Ann Fleener
Salem: Autumn Nicole Manthey
West Plains: Missy Fay Grinstaff
Associate of Applied Science in Business – Technology Management
MISSOURI
West Plains: Ethan Timothy Bunch
Associate of Applied Science in Business – Accounting
MISSOURI
West Plains: Lynnsey Chilton
Willow Springs: Seth A. Chavez
Associate of Applied Science in Computer Graphics Programming
MISSOURI
Dora: Gavin Ryan Martin
West Plains: John Kenneth Haskins, Jesse Caleb Mills
Associate of Applied Science in Child and Family Development
MISSOURI
West Plains: Amystie Renee Hasting
Winona: Casey Nicole Smith
Associate of Applied Science in Hospitality Leadership – Management
MISSOURI
Dora: Linda Marie Fox
Associate of Applied Science in Culinary and Hospitality Management
MISSOURI
West Plains: Cheyenne Michelle Robison
Associate of Applied Science in Health Information Technology
MISSOURI
Houston: Shayna Ann Adams
Moody: Amanda Rae Pray
Mountain View: Samantha Lynn Boston
Tecumseh: Audriana E. Burton
West Plains: Cynthia Jean Barton, Robyn R. Hodde, Maghen Marie Voyles, Kaitlynn Paige Woody
Willow Springs: Katrina Petrovna Sidorovich
Associate of Applied Science in Technology – Information Technology
MISSOURI
Mountain Grove: Zachary Michael Jacobs
Associate of Applied Science in Technology – Management
MISSOURI
West Plains: Kayla Nicole Ray
Associate of Arts in Teaching – Elementary Education
ARKANSAS
Mammoth Springs: Brooke Shae Brown, Savannah Sky Ray
Viola: Carson Emery Guffey
ARIZONA
Tempe: Lily Mae Culton
MISSOURI
Alton: Brittany Ann Fettig, Carlissa Brianne Holman
Ava: Grace Elizabeth Mathews
Birch Tree: Shelby May Acklin
Brandsville: Jordyn Lyn Stirewalt Harden
Cabool: Madelyne Ilizabeth Nichole Aaron
Caulfield: Sarah Michael Amburgy
Dixon: Sarah-Ann Marie Kelley
Dora: Taylor Marie Morgan
Eminence: Timothy James Rolen
Mountain Grove: Audra Leigh Ann McKinney
Mountain View: Isobel Rhoda Baldwin, Kelsea Lynne Martin, Tayler Jesslyn Michelle Randolph
Raymondville: Alicia Nichole Wilson
Summersville: Breauna Kaylene Pitts
Thayer: Haley Mae Ball, Mikayla Ruth Green
West Plains: Cassandra Marie Cressman, Bailey Nicole Geissinger, Makayla Ann Karr, Courtney Elizabeth Melvin, Allison Margret Rhoads, Ashley Deanne Kerley Strawn, Samantha Jan Wichern
Willow Springs: Bryce Austin Duddridge
Winona: Abigail LeaAnn Miley, Emily Nicole Wallace
Associate of Science in Agriculture
MISSOURI
Caulfield: Kendra Rose Jane Sisney
Dora: Andi Jean Howard
Licking: Evelyn Marie Tyree
Pomona: Jodi Lee Roinuse
Thayer: Michela Rose Skinner
Associate of Science in Business
ARKANSAS
Salem: Timothy Robinson
MISSOURI
Bucyrus: Dawson Bradley Koch
Ellington: Meghan Elizabeth Johns
Eminence: Tristan Lynn Rose Weaver
Licking: Landon Lee Medlock
Mountain Grove: Abigail Mae Chalfant, Gracie Nicole Anderson
Mountain View: Kelstin Marie Roy
Republic: Trevor William Messer
Thayer: Rebekah Crone, Natalie Leigh Ann Wilfong
West Plains: Jessica Louise Bates, Kolton John Billingsley, Kebron Tesfal Ghebreigziabher, Inna Koverznyeva, Caleb Rafe Morrison, Lindsey Dawn Peterman, Elijah Lee Russell
Associate of Science in Pre-Engineering
MISSOURI
Eminence: Darrel Reese Crider
Pottersville: Lynaya Downen
West Plains: Summer Dawn Gabriel
Associate of Science in Nursing
ARKANSAS
Mountain Home: Adam Patrick Klod
Salem: Veronica Hay
CALIFORNIA
Concord: Leilani Lynn Barrett
MISSOURI
Bakersfield: Mariah Rae Burnett
Caulfield: Meghan L. Wells
Eminence: Audrey Lynn Sweet
Houston: Breanna Jean Brown, Tara Nikole Silveus
Jefferson City: Rachel Michelle Spillane
Kansas City: Natalie A. Kroninger, Samantha R. Torres
Koshkonong: Emily Marie May
Lathrop: Sharmin L. Parks
Marshfield: Danielle Ledawn Counts
Mountain Grove: Courtney Danielle Morrow
Mountain View: Nicolas Barraza Ortiz, Dylan Jeffery McGill Harralston, Grace Sheganesh Schierling
Newburg: Lillian Ashley Stephens
Pomona: Micki R. Anderson
Saint Peters: Kateura Rachelle Williams
Springfield: Marina Protsenko, Sarita Autry Rivera
Summersville: MacKenzie Dawn Simpson
Tecumseh: Katelyn Jene Owens
Thayer: Nevaeh N. Cone, Megan R. Webster
Troy: Helen Grace Meyer
Tunas: Annie Raquel Bishop
Vanzant: Jerica Renae Cody
West Plains: Angelica Anne Grisham Adelsberger, Julie Lynn Andrews, Savannah Rayne Bailey, Kyla Nicole Bunch, Deanna Rachelle Collins, Dylan Marie Collins, Heather Sue Day, Amanda Sue Flowers, Mariah Faith Fowler, Abigail Rene Harris, Adiline Mae Daphine Hicks, Chloe Elisabeth Howell, Hailey Nichole Hugg, Ryder Kole Kincheloe, Erika Lea Lamb, Rebecca Inez Ford, Jamaica Janay Louise O'Shields, Wyatt Ross Reid, Shawna Kay Sanders, Jacob Daniel Skiles, Emily Christine Smith, Seth Michael Stiles, Taylor Brynn Vonallmen, Kelsie Wells, Kayla Jeane Yonkman
Willow Springs: Jo Beth Guffey, Zachory Jaron Means
Associate of Science in Technology – General Technology
MISSOURI
Pomona: Jacqueline Nadean Welch
Certificate in Electronic Health Records Specialist
MISSOURI
Houston: Shayna Ann Adams
Mountain View: Samantha Lynn Boston
West Plains: Maghen Voyles
Willow Springs: Katrina Petrovna Sidorovich
Certificate in Horticulture
MISSOURI
West Plains: Mark William Jones
Certificate in Medical Coding
MISSOURI
Birch Tree: Barbara J. Brake
Houston: Shayna Ann Adams
Mountain View: Samantha Lynn Boston
West Plains: Maghen Marie Voyles
Willow Springs: Katrina Petrovna Sidorovich
Certificate in Medical Office Administrative Assistant
MISSOURI
Houston: Shayna Ann Adams
Mountain View: Samantha Lynn Boston
West Plains: Maghen Voyles
Willow Springs: Katrina Petrovna Sidorovich
Certificate in Medical/Clinical Assistant
MISSOURI
Gatewood: Ashlinne Kiyah Deanna McGhee
Pottersville: Ania Michele Christopher
Certificate in Advanced Welding/Fabrication Technology
MISSOURI
Dora: Booker Berry, Jacob Michael Chance
Koshkonong: John Richard Bowles III
Pomona: Austin Dean Davis, Wyatt Andrew McWaters, Vincent Metz
Willow Springs: William Nolan Smith
Missouri State University Outreach 2022-2023 Graduates
Specialist in Education, Counseling and Assessment
MISSOURI
Dora: Shereen Pettit
Master of Accountancy
MISSOURI
West Plains: Angelia Ashberger
Master of Arts in Teaching
MISSOURI
Ava: Tenisha Loftin
Willow Springs: Maegan Bell
Master of Science in Counseling, Clinical Mental Health
MISSOURI
Mountain View: Elizabeth Logsdon
West Plains: Ashli Wake
Master of Science in Counseling, School Counseling
MISSOURI
Winona: Kendra Voyles
Master of Science in Education, Educational Administration – Secondary Education
MISSOURI
West Plains: Brandon Somoza
Master of Science in Education, Educational Technology
MISSOURI
West Plains: Krista Lair
Master of Science in Nursing, Nurse Educator
ARKANSAS
Mountain Home: Kristen Cotter, Sheila Rather
MISSOURI
West Plains: Jessica Ann Barton
Master of Science in Psychology, Clinical
ARKANSAS
Salem: Ashley Hall
Master of Social Work
ARKANSAS
Gepp: Racheal Downs
MISSOURI
Ava: Hailey Herrell
Mountain Grove: Kathryn Carroll
West Plains: Abigail King
Bachelor of Science in Agricultural Education
MISSOURI
West Plains: Michael Knapp
Bachelor of Science in Child & Family Development
MISSOURI
Birch Tree: Cyneca Huddleston
Bachelor of Science in Criminology
MISSOURI
Doniphan: Cole Bax, Caden Cannon
Eminence: Peyton Shelton
Pottersville: Amanda Brege
Bachelor of Science in Elementary Education
MISSOURI
Alton: Tiffany Orchard
Bucyrus: Jaden E. Beasley
Licking: Kassidie Werkmeister
Mountain Grove: Ali Watson
Pomona: Cecilia Malkowski
Richland: Cole Pershing
Thayer: Tiffany Sisco
West Plains: Andrea Battreal, Hannah Brown, Noah Collins, Hannah Ellett, Emily Harrison, Samantha Hickman, Madison Mazingo, Kylie Pingleton, Anna Riley, Haley Satterfield
Willow Springs: Maksim Kharitonov
Bachelor of Science in General Business
MISSOURI
Cabool: Janette Howell
Bachelor of Science in General Studies
MISSOURI
Alton: Jared Hitch
Pottersville: Bailey Johnson
Thayer: Melinda Wilson
Bachelor of Science in Health Services, Clinical
ARKANSAS
Mammoth Spring: Sara Busch
MISSOURI
West Plains: Sandra Theobald
Bachelor of Science in Management, Administrative Management
MISSOURI
Cabool: Joshua Gregory, Kinley Tucker
Bachelor of Science in Professional Writing
MISSOURI
Willow Springs: Morgan Blanck
Bachelor of Science in Psychology
ARKANSAS
Viola: Ryhlea Castaneda
MISSOURI
Alton: Misty Johnson
Ava: Haley Herrera
Licking: Kayla Lewis
Mansfield: Seth Evans
Mountain Grove: Daniel Taylor
Norwood: Raquel Cumby
Pomona: Breana Collins
Poplar Bluff: Alyssa Sisson
Thayer: Sydney Hollis, Nakoma Wheeler
Theodosia: Michael Shoemaker
West Plains: Lindsey Bassham, Lana Church, Shandon Gross, Isabel Johnson
Bachelor of Science in Nursing
MISSOURI
Houston: Megan Bonner
Bachelor of Science in Sociology
MISSOURI
Willow Springs: Tiarra Davis
Bachelor of Social Work
MISSOURI
Ava: Jennifer Fortner, Courtney Lyon, Lacy Shields
West Plains: Raven Collins, Janeal Talton