One of the best things about Missouri State University-West Plains is it provides an opportunity for students in the area to get a quality education close to home. But not all Missouri State-West Plains students live within commuting distance, and even some who do might prefer to get away from home to start their college careers. For them, campus housing is a great way to start the path to independence after high school. Missouri State-West Plains offers two housing options: the Grizzly House and the nearby Grizzly Lofts. Here are a few reasons why campus housing is worth considering:
1. AMENITIES
With room enough for up to 60 students, the Grizzly House features a community room with a TV, free cable TV and internet access, a computer lab, a lighted outdoor basketball court and a laundry facility.
The four-person, two-room suites each have a full bathroom, a living room with a couch, chair and coffee table, a refrigerator, two desks and two wardrobes, and two extra-long beds per room.
The Grizzly Lofts, located a few blocks from campus, can house up to 274 students. The building, which is listed on the National Register of Historic Places, was once the International Shoe Company, which operated for almost 50 years and was West Plains' largest employer. After the factory closed, the building was eventually renovated to become the Shoe Factory Lofts, a private student housing facility that opened in 2012, and on Jan. 1, 2017, Missouri State-West Plains took over management of the facility, which was then renamed the Grizzly Lofts.
"It's a unique building," Residence Life Manager Stanley Mugeki said. "It was not originally designed as a residence hall, which is intriguing, as is how far it has come."
Amenities include an on-site dining hall, a fitness center, a computer lab, private and group study rooms, free cable TV and internet, a "club house" with TV, video games and ping pong, a laundry facility, and a sand volleyball court outside. Plus, both the Grizzly House and the Grizzly Lofts are equipped with security cameras and limited access entries.
2. AFFORDABILITY
Pending approval by the Board of Governors, the cost per semester during the 2017-2018 academic year will be $2,910 for Grizzly House residents and $3,000 for Grizzly Lofts residents, Dean of Student Services Angela Totty said. This fee includes utilities and 20 meals per week.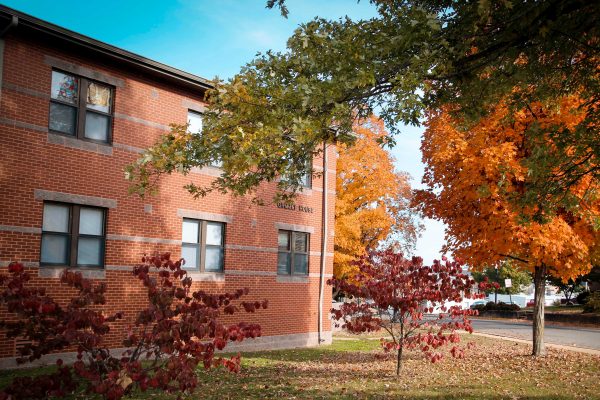 The fees can be paid with student financial aid such as scholarship and Pell Grant funds. In previous years, only students living in the Grizzly House could pay for their housing with financial aid, but now that the Grizzly Lofts are under university management, students have a more streamlined process for both applying to and paying for their housing in that facility.
3. PROXIMITY
The Grizzly House is nestled in the heart of campus, directly across the street from Garnett Library and a short walk from the various campus halls, Putnam Student Center, the Student Recreation Center and the fitness center and pool at the West Plains Civic Center.
The Grizzly Lofts are a few blocks removed from campus, but are still well within walking distance. Although it's farther from Putnam Student Center than the Grizzly House, the in-house dining hall and computer lab at the Grizzly Lofts make up for the added distance. 
4. A COMFORTABLE, CARING ENVIRONMENT
Mugeki, who began his duties in late 2016, said his first and foremost responsibility is making sure he gets students involved in campus activities and building a community where students care about and respect each other. He stressed the difference between "residence halls," such as the Grizzly House and the Grizzly Lofts, and simple "dorms."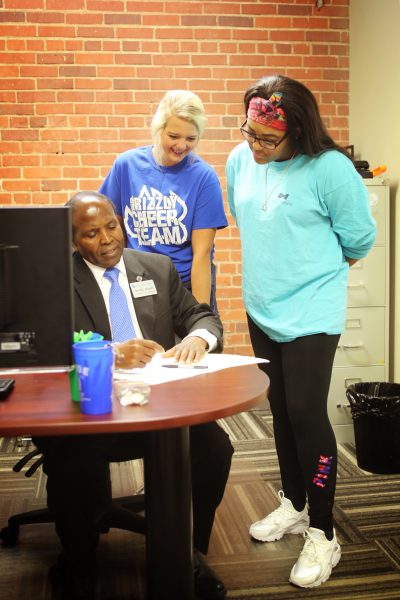 "A dorm is just someplace you sleep," Mugeki said. "In a residence hall, there is intentional programming to create a living, learning environment for a community of learners."
Mugeki said students who interact with faculty and staff and become involved with activities and events on campus increase their sense of belonging and, as a result, will persist in their academic work, as well.
"The first two to four weeks are critical to the success of the students," Mugeki said. "That is the time you are the most vulnerable to feeling homesick or alone. I want our students to know that we value them, and they do belong here."
"THE FULL COLLEGE EXPERIENCE"
Sydney McBride, a sophomore from Lebanon who works as a resident assistant at the Grizzly House, strongly recommends campus housing to other students because of the life lessons that can be learned from it.
"I wanted the full college experience and felt that living on campus could play a huge part in that," she said. "Also, I had the opportunity to have scholarships pay for my housing versus having to pay rent every month."
McBride said she was nervous when she first moved into the Grizzly House.
"I was worried my roommates wouldn't like me, or I wouldn't like them," she said. "However, my RA reassured me everything would be fine and made me feel at home. Another way I adjusted to my new surroundings was by getting involved. The more friends I made, the more comfortable I felt.
"I have grown and learned so much about life by living on campus," McBride continued. "I like having the opportunity to live with people from different backgrounds because it allows me to see different perspectives on life."
McBride describes being an RA as one of the best decisions she has ever made.
"The most enjoyable part of being an RA is being there for the residents and the connections I have made," she said.
FOR MORE INFORMATION
To learn more about campus housing, including a list of off-campus housing options, visit http://wp.missouristate.edu/housing/, or call 417-255-7233.